There is some consensus regarding how technology has a positive impact on people's well-being. There are many areas where their advances improve our lives: productivity, health, logistics, security, communication, etc. But how can technology improve the lives of people with reduced mobility? In this report we talk to the team of the Industrial Doctorates project that aims to promote the applied uses of virtual, augmented and mixed reality to improve the quality of life of the people of this group.
The project team is made up of Alicia Cañellas-Mayor as an industrial doctoral student, Laura Aymerich-Franch as thesis director of the Pompeu Fabra University (UPF) and Pere Pérez Ninou as company tutor and founder of VISYON of the Mediapro group. Alicia has always been linked to new technologies and innovation applied to learning processes, from a focus in which they can add value to people, as is the case with this project. She has coordinated projects linked to immersive learning, extended reality (XR), virtual reality (VR) and mixed reality (MR) technologies. 
VISYON is a company that produces immersive content and experiences through creativity and technology, which has been deserving of numerous awards. A company that, beyond creating immersive experiences, carries out scientific research to understand how the human brain works in virtual reality environments. In this way they can design effective training programs, practical solutions ranging from improving health care to maximizing entertainment experiences.
The Industrial Doctorate project has been able to detect the most common accessibility problems for people with reduced mobility, since not all real physical spaces, in general, are fully adapted inclusively. Thanks to the use of immersive technologies, users with reduced mobility have the opportunity, as Cañellas-Mayor explains: "to be able to "teleport" digitally and in an immersive way to hard-to-reach spaces or places that, perhaps otherwise, they could not visit". This is precisely one of the applications that the project has developed through a virtual reality (VR) prototype: being able to make cultural or educational visits to spaces with difficult access. 
Inclusion is one of the social and human values that have determined the objectives of the project. Anyone, regardless of their diversity (in this case, functional diversity) must be able to enjoy the advances that these new technologies entail in terms of society, and they must facilitate their integration. That is why it is necessary to think in terms of universal design in any service or product linked to the XR (or any other technology), so that this right can be ensured.  Pérez Ninou, as tutor of the project, tells us about the great potential of virtual communication technologies "to facilitate the conditions of equality, education and social equality for groups that have suffered some discrimination due to physiological limitations".
But the challenges faced by the application of these technologies are diverse, despite the fact that the most immediate thing is to reach the public in a much more generalized way. The metaverse, the digital world that is accessed through virtual communication technologies, creating interactions similar to the one we have in reality, will exponentially boost this type of immersive format. Cañellas-Mayor explains how he perceives "greater involvement of companies in using or offering solutions provided with this type of technology".
One of the secondary objectives of the research carried out by the project is precisely to raise awareness in the extended reality technology sector in aspects related to accessibility and universal design. According to Pérez Ninou "a lot of work still has to be done to remove the current barriers to technology". This is the case of the Virtual Reality platform prototype that they have developed within the framework of this research, which allows different aspects to be configured through various functionalities adapted to the physical needs of each user. One of these aspects is the possibility of activating an extra panoramic system, which makes it possible to visualize a 360° environment in a more assisted way to those people who do not have a range of cephalic mobility. The main purpose is therefore to ensure that these technologies allow people with reduced mobility to immersively access hard-to-reach spaces that, for example, cannot be architecturally adapted. Cañellas-Mayor tells us about the use of telepresence using drones: "one of the VR prototype experiences that we have developed offers the possibility of watching 360º video from this perspective"
The project has also served to detect other possible uses, from using these technologies to make the reality of the collective visible to the rest of society in an immersive way, carrying out immersive 360° videoconferences, controlling home automation environments, to being able to practice stimulation activities and learning or rehabilitation processes. In short, a set of technologies that enable the personal growth and satisfaction of the group that is difficult to match other solutions, as Cañellas-Mayor tells us: "even the use of these technologies can lead a person to feel more included in their environment/society, which reinforces their self-confidence or self-esteem and has a positive impact on their emotional state/well-being". Until reaching the development of the VR prototype with adapted functionalities, an important analysis has been carried out of the current extended reality devices on the market. Likewise, several interviews have been conducted with experts who work with or for the group of people with reduced mobility, including people who are directly part of the collective.  
Psychology and pedagogy are also very relevant when implementing this type of project linked to these technologies, according to the objectives set. But ethics is perhaps one of the disciplines that must always be present when researching with people, "especially when an experimental aspect is involved, as is the case with our project", Cañellas tells us. All the procedures developed during the research, such as ethical standards or the protection of personal data of the participants, have contributed in some way to the improvement of the results of the research.
Collaborative research between academia and the private sector is the basis of the Industrial Doctorates Plan, a necessary collaboration to advance knowledge and, according to Cañellas-Mayor: "especially in the case of applied research, and even more so in an area like ours, where we work with emerging technologies that are constantly evolving at a frenetic pace". This type of research has an impact on the application of results, such as some of the projects to VISYON's clients, where part of the results obtained during the research have been implemented, in order to adapt some immersive XR technology solutions to the needs of groups of people with disabilities.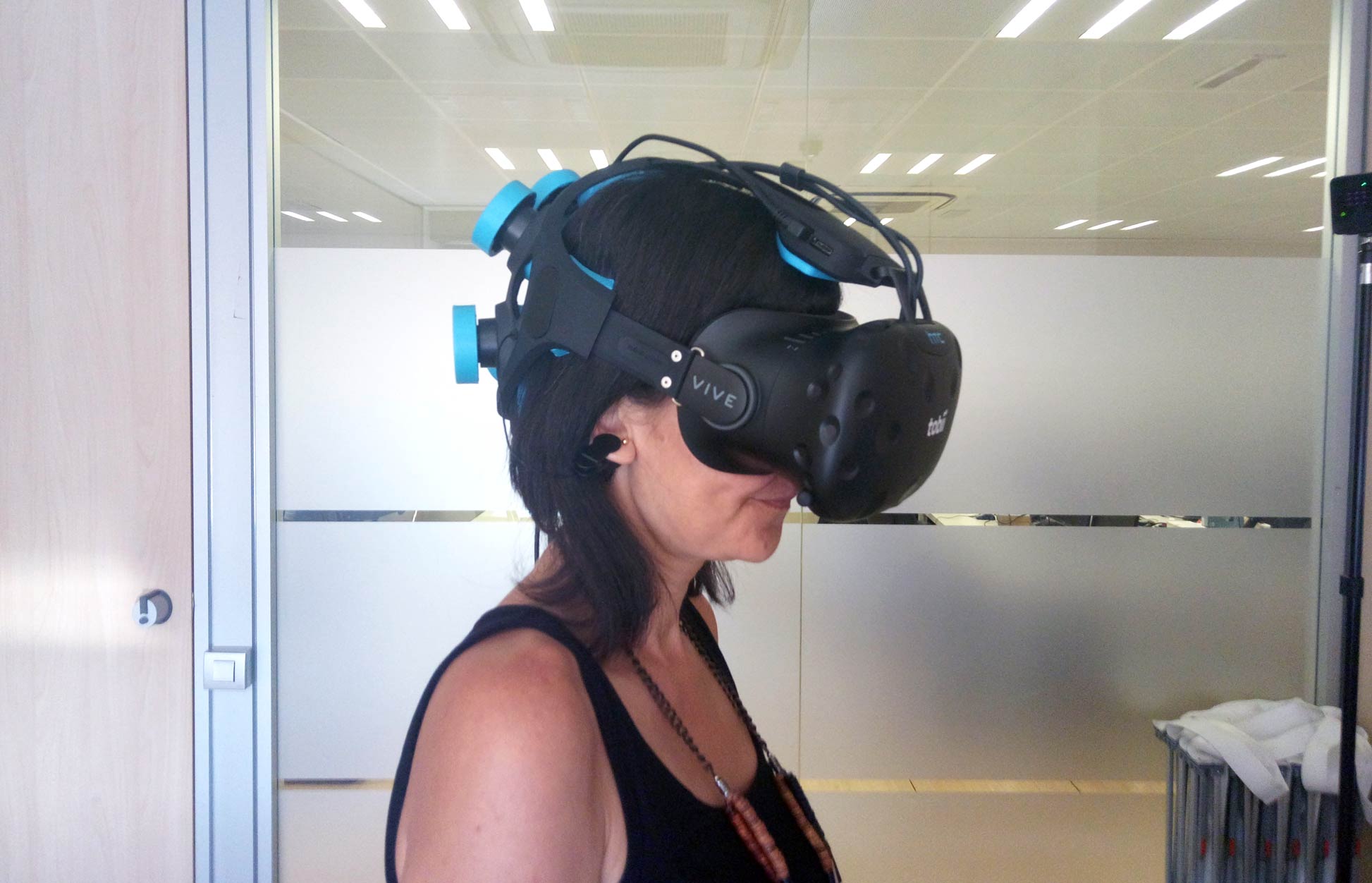 Regarding the experience with Industrial Doctorates, Aymerich recommends them especially in applied research projects in which it is essential that research reaches society directly through a product or service: "it has allowed us to achieve a positive impact on society much more directly than a traditional doctoral project would have allowed". For the doctoral student, it has been a very enriching experience that has allowed her to "acquire new knowledge and learn a lot throughout the process", among which the complementary training offered by the Plan in business matters and related skills stands out: entrepreneurship, knowledge transfer, patents, among others. One of the aspects that also stands out has been the collaboration, during the research process, with many companies and professionals linked to the group under study: Fundación ONCE, Fundació Catalana de Paràlisi Cerebral, Ilunion, Grup Sifu, l'UNED, among others.
The applicability of the results of this research has been awarded on several occasions, although the team highlights the proposal #VRACCESMOB presented in the 3rd European Open Call (Open Call) XR4ALL. The proposal, a prototype of Virtual Reality (VR), that Cañellas-Mayor and Dra. Laura Aymerich-Franch have developed with the VISYON team, within the framework of the Industrial Doctorate project, allows immersive 360° visits to cultural and educational environments. Users can configure certain functionalities to adapt the user experience to the needs of people with reduced mobility. And, thanks to this award, they have been able to validate with international experts, both the technical concept and the business model of the project.
In conclusion, projects like this one allow us to move towards a revolution in access to new technologies for people with reduced mobility, and it can even be extended to other similar groups. Progress in the field will allow any device to be oriented in the future to the specific needs of each individual. The VR4ALL project aims to pave the way for this scenario. But, without a doubt, the indisputable advantage of virtual reality applied to disability is the emotional aspect. Being able to experience certain sensations stimulates the senses and skills of the user, generating new sensations, accompanied by emotions, which ultimately allows new, more motivating forms of learning.