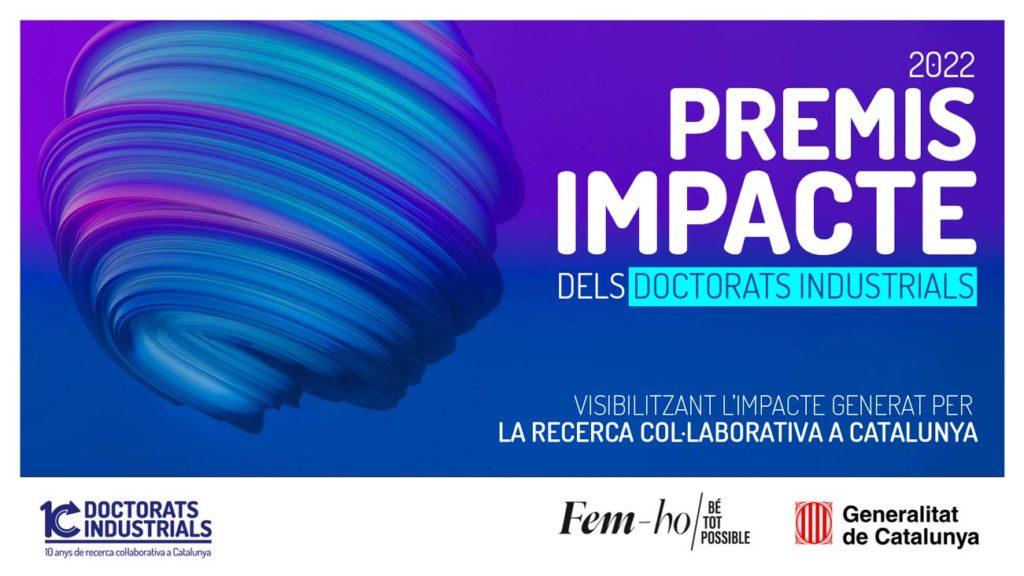 El Pla de Doctorats Industrials celebra enguany els seus 10 anys de vida. Durant aquesta primera dècada de funcionament del programa del Departament de Recerca i Universitats ha implicat 530 empreses, les 12 universitats catalanes, 25 centres de recerca de Catalunya (CERCA), altres organismes de recerca a Catalunya (CSIC, BSC, Eurecat, entre d'altres), que en conjunt han involucrat més de 600 investigadors i investigadores.
Per celebrar aquesta efemèride presentem la primera edició dels Premis Impacte 2022 dels Doctorats Industrials.
L'objectiu d'aquest concurs és visibilitzar l'impacte que han generat els projectes de doctorat industrial finançats per la Generalitat de Catalunya des de perspectives diferents: general en la societat, en la mateixa empresa o institució, en el desenvolupament professional de les persones. A més, un segon objectiu és apropar els Doctorats Industrials a la ciutadania amb la finalitat d'identificar reptes (actuals o futurs) i anticipar-ne quin tipus d'impacte generaria. S'espera que aquestes propostes puguin ser futures sol·licituds a la convocatòria d'ajuts DI.
El concurs està dirigit a participants del Pla de Doctorats Industrials (responsables d'empresa, directores i directors de tesi, doctores i doctors industrials, doctorandes i doctorands industrials), però també, i amb l'objectiu d'obrir el programa de Doctorats Industrials a tota la ciutadania, convidem a participar en el concurs a qualsevol persona, major d'edat, resident a Catalunya.
The winners of the different categories of the contest will receive as a prize:
· La inclusió del seu text en el Llibre commemoratiu dels 10 anys del Pla de doctorats Industrials
· Lliurament d'un iPad Wi-fi 64GB Space Gray (9th Generation) més un iPad Smart Cover (Negre) durant l'acte de celebració dels 10 anys, que tindrà lloc en el primer trimestre de 2023.
La data límit de presentació serà a les 14.00 hores del dia 15 de desembre de 2022.
Us convidem a descobrir les bases del concurs en el següent enllaç, i t'animem a presentar la teva candidatura en el formulari que hi trobaràs.