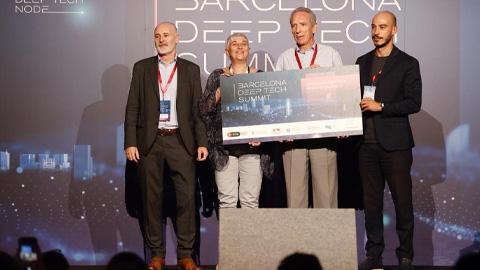 Original news: https://www.uab.cat/ (23/09/2022)
This award recognizes the company as the best deep tech start-up and gives a boost to its internationalization with the opportunity to present itself at the Hello Tomorrow 2023 fair in Paris. It has been awarded during the celebration of the Barcelona Deep Tech Summit, an initiative promoted by Barcelona Activa and Barcelona City Council, together with the public universities UAB, UB, UPC, UPF, UOC, and the co-organization of ACCIO.
Qilimanjaro is a spin-off of the Institute of High Energy Physics, the Barcelona Supercomputing Center and the University of Barcelona, a pioneer in Europe in the development and commercialization of quantum computers. The company designs high-quality quantum computers based on superconducting qubits to effectively address complex optimization and machine learning problems. In addition, it also offers services for companies to be prepared for quantum, especially in terms of quantum algorithms, quantum simulation and classical/quantum computer approaches.